Shits fucked up and bullshit. Solidarity!
Occupied Palestine | فلسطين
21 January 2013 | International Solidarity Movement, Occupied Palestine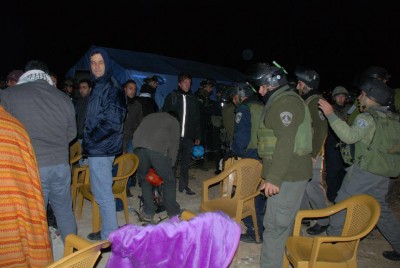 In the early hours of Sunday morning, Israeli forces stormed into a peaceful Palestinian camp protest in the small village of Beit Iksa to demolish a half built mosque and tear down four large tents that had been erected since Friday.
Israeli occupation forces surrounded the camp after giving only 6 hours notice to the organisers that the building of a mosque and erection of tents was illegal due to the fact it was in Israeli controlled area C. The land on which the camp was set up on belongs to local Palestinian villagers and was a communally organised event to protest against the annexation of land by the Israeli government.
After forcing young and elderly civilians into the centre of the camp, Israeli forces then dragged and pushed the group down a rocky valley to check each individuals ID.
The…
View original post 115 more words